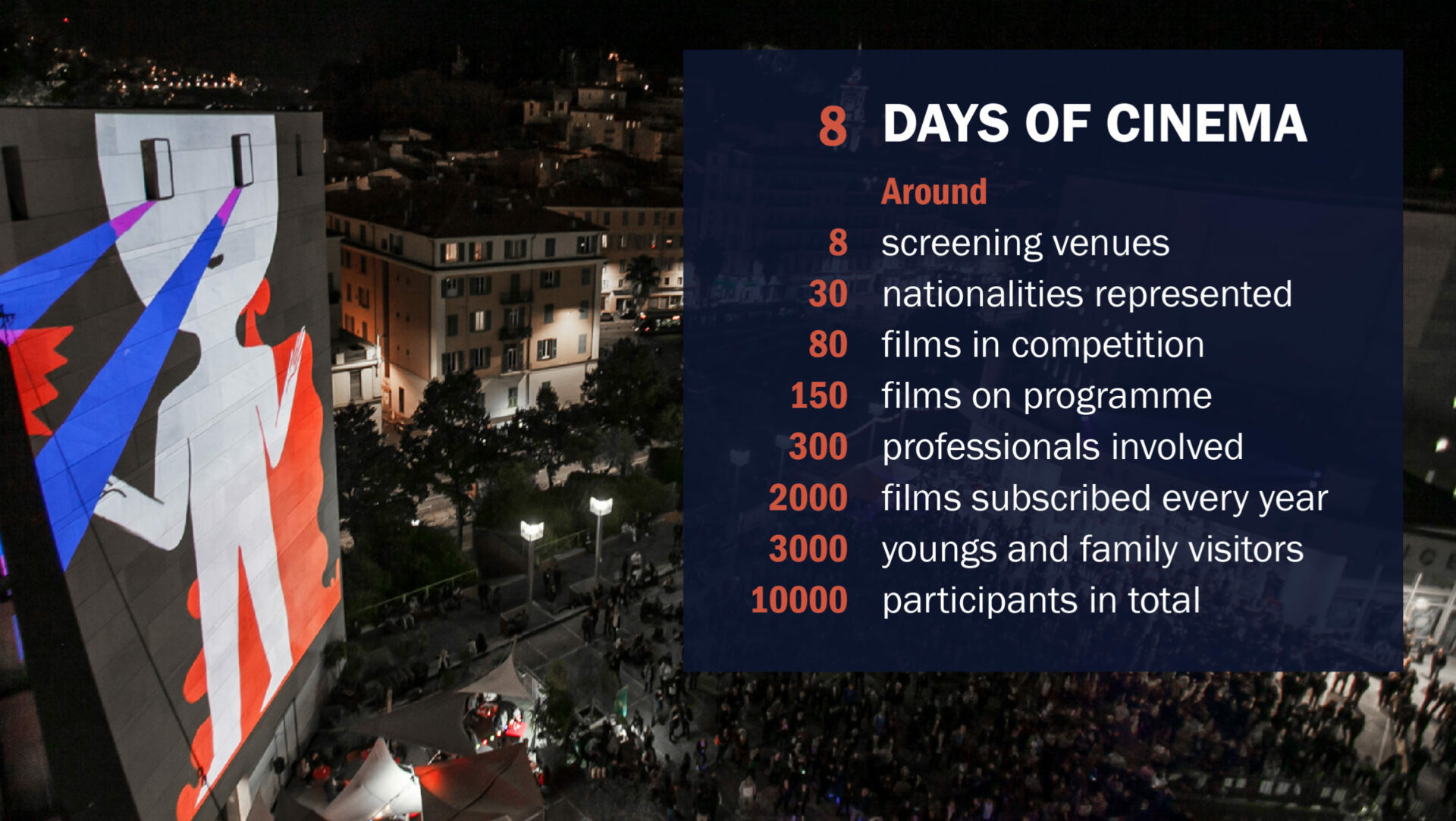 This Festival opens the door to unmissable evenings celebrating the magic of short film, often associated with other forms of art.
THE MEETING PLACE FOR YOUNG EUROPEAN FILMMAKERS IN NICE
The Nice European Short Film Festival Un Festival C'est Trop Court! is an event dedicated to young cinematographic creations. Committed to announcing new trends, it gathers every year for a week, films and audiences from all over Europe, forming a fresh and unprecedented cultural effervescence in Nice.
Through several competitive programs, this festival presents diverse, unique and innovative work that highlights the creativity and originality of short films. Check out our Festival's website here.
COMPETITIONS
Un Festival C'est Trop Court! is made up of 4 official competitions that are voted upon by professional panel :
European Competition (films produced and/or co-produced in Europe)
Courts d'ici (films shot and/or produced in the South of France and Corsica)
Experience (competition of experimental films competition, video art, new cinema)
Animation (film competition for European animation schools)
PROFESSIONAL PLATFORM
This festival is unique on the French Riviera for this kind of film. Classified category 1 by the CNC (centre national du cinéma et de l'image animée), it is also an important space for professional exchanges and meetings during the Nice Short Meeting.
Scheduled during the Festival, this is a day dedicated to training workshops and meetings between authors and producers. On another side, thematic round tables put into perspective the artistic and economic stakes of short films.
TRAVAUX EN COUR(T)S (WORKS IN PROGRESS)
A call for scripts is launched every year for the workshop Travaux en Cour(t)s in the framework of the Nice Short Meeting. Four authors are selected to pitch their script in front of writing and production specialists. They will then be interviewed individually for guidance. One candidate, chosen among the 4, will win the award and participate in the Young Authors workshop of the Tous Courts festival in Aix-en-Provence.
The call for scripts for Travaux en cour(t)s 2021 is still open. Submit your project
IMAGE EDUCATION
The Héliotrope a not-for-profit organization is also a leading operator in image education in the Alpes-Maritimes. We offers students from the French Academy the opportunity to take part in the festival through adapted screenings, film workshops or meeting professional technicians as part of the day of discovery of the cinema professions.
SINCE 2000
In 2021, Un Festival C'est Trop Court! will celebrate its 21th anniversary. A festive program is underway, with a big desire, more than ever, to gather together to share this cultural event. Our dates are maintained. See you for the 21st edition from October 8 to 15.

Classified Category 1
Un Festival C'est Trop Court! is classified category 1 by the CNC (National Center for Cinema and Animated Image).